My third stitch fix arrived today, styled again by Lana.  In case you missed it, my write up of last month's fix was featured on the StitchFixReviews.com website, so that was pretty exciting!  It's funny because I thought maybe I could skate by posting full-length photos of myself online and maybe no one would see it, so no big deal.  I was a little worried with the increased publicity that internet bullies would jump in, but, much to my surprise and delight, I got a bunch of wonderful, positive comments.  I can't even begin to express how great it is to have people be so kind and supportive.
So, this month's fix arrived today while it was pouring rain outside, so I found a little space inside for photos this time.  Lana wrote me a little note on my item card again:
Hi Melissa!  I was so happy to see you enjoyed your last Fix – the dress looks amazing on you with that red cardigan.  To keep that 50's style going, I chose the Loveappella off the shoulder knit dress for you.  It's on trend for the season and will look great with some red lipstick.  The Laila Jayde cold shoulder top is perfect for a night out paired with the Makers skinny jeans.  I see you like to typically wear a bootcut style, but I thought these would look amazing on you, and they are super comfy.  I also included the Gilli Morgen skirt which will be a chic piece to wear to your next wedding with the black top in your last Fix or for a night out with your husband paired with some black boots.  Enjoy and I look forward to your feedback and requests next time.  PS: Happy belated Anniversary!  XO Lana
Is she not the bestest ever?!  I giggled the whole way through because she totally gets me.   I basically get this awesome internet pen-pal who stalks me sifts through my social media posts and blog and then sends me amazing clothes.  It's a pretty awesome arrangement!  The anniversary wishes were really sweet too! (13 years!  ACK, how has it been 13 years already?!)  Alright, so let's go through the box, one item at a time.  I did a few different outfits with some of the items since I knew I had something in my closet that would work perfectly.  It was sort of funny – as I was taking photos, I'd go review the photos I just took and then go OH HEY and run off to the closet to dig for just the right top, shoes, etc.
Item: Laila Jayde Barret Cold Shoulder Knit Top
Cost: $54
Paired With: Makers Lianne Skinny Jean (this month's Fix), yellow flats (mine), necklace (mine)
I LOVE the color.  Unfortunately, it's much too small even though it's the same size as the rest of my Fix – instead of having enough room to hang over my tush, it clung to my backside and just felt odd.  It's about mid-thigh length, so for a tunic length,  I feel like it should have enough room to fit over the hips and butt instead of being quite so form fitting.  I'm also not into the whole cold shoulder trend even though I know it's really in right now.  I kind of have wide, linebacker shoulders and thick upper arms, so I feel like adding extra emphasis on my shoulders with a cutout in the fabric there makes them look extra wide/thick, and it draws attention to an area I like to minimize and hide.  The fabric is a polyester/rayon/spandex knit, made in the USA, and it's a nice weight for spring or fall.  However, this just didn't wow me.  It's definitely going back.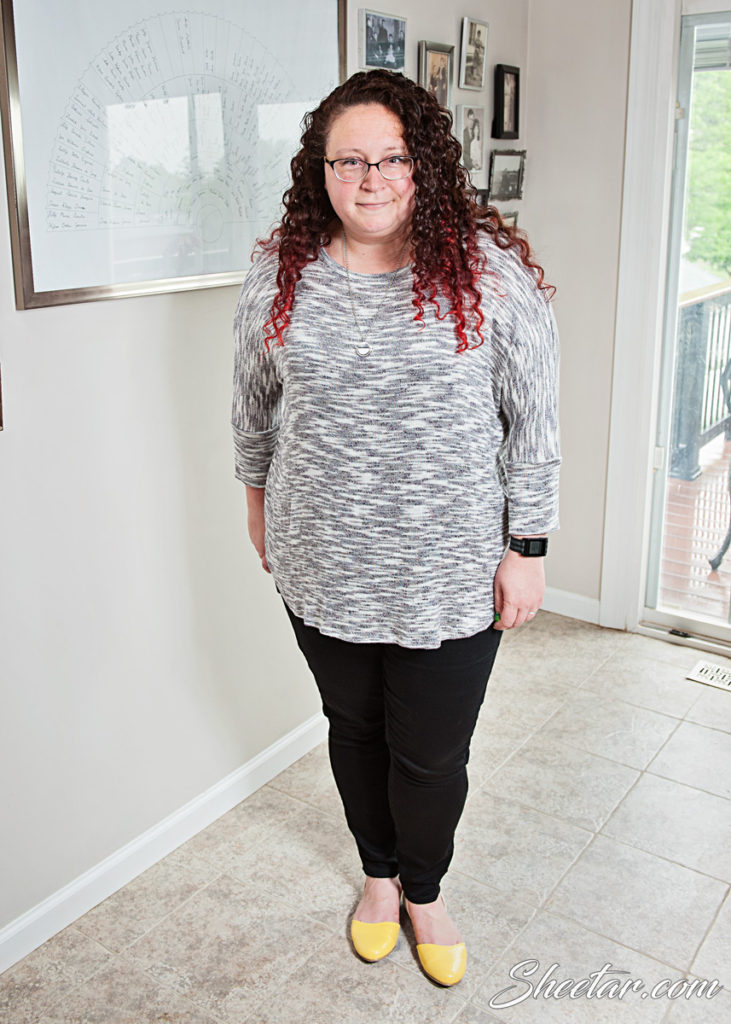 Item: Market & Spruce Sawyer Space Dye Dolman Sleeve Knit Top
Cost: $58
Paired With: Makers Lianne Skinny Jean (this month's Fix), yellow flats (mine), necklace (mine)
This is another top that just wasn't a hit with me.  Dolman sleeves are another sort of "in" thing right now that I just don't like – they add extra fabric and bulk when plus size gals generally don't need extra fabric and bulk.  I mean, you can see how wide this makes me look in comparison to the photo above.  I think it may be a size too big too, and the sleeve length is awkward – it's between 3/4 length and full length and it's just.. odd.  The fabric is a rayon/acrylic/spandex blend and is made in the USA with imported yarn.  The drape is nice, and the fabric is a lighter, open sort of knit that would work well to throw on for a cool summer evening, but the fit and style is just not working for me.  This one is definitely going back.
Item: Makers Lianne Skinny Jean
Cost: $48
Paired With: Black heels, necklace, top, cardigan (all mine)
Okay, it's like Lana read my mind.  See, I've always been anti-skinny-jean.  I've got big thighs and despite having tried jeans that are more fitted before, I just never liked the way my legs looked – I've got thinner ankles but plenty of junk in the trunk, so from the side, I just didn't like what I saw (something about showing off the way my legs get wider and wider up to my butt just.. ehh).  I was all BOOTCUT4LYFE because they make a nice, straight line from my tush to my shoes, and it's totally my jean-shape-comfort-zone.  I was thinking just a few weeks ago that maybe I should give skinny jeans another try since there's no commitment in just trying on clothes at a store, and who knows, maybe I'll find a pair that will actually work.  Somehow Lana knew!  I love that she gave me a little extra nudge in her notes, saying that they're super comfy, because wow are they ever.  The length is even just about right!  Maybe an inch too long, but with the stretch, the little bit of extra length is really no problem at all.  The fabric is a cotton/polyester/spandex blend (made in China), so they're stretchy, but still have enough weight to them that they're definitely jeans, albeit super nice jeans that I'd even wear to photography jobs.  I definitely like these with a shorter top as in the photo above but with a longer cardigan.  That way I can wear skinny jeans, but still give a little coverage to my thighs and tush if I'm having one of those super-self-conscious kind of days.  These are definitely a keeper.
Item: Loveappella Tonia Knit Dress
Cost: $48
Paired With: Heels, belt, cardigan (all mine)
I swear to you, this dress is magic.  The illusion of the lines means the horizontal lines on the top make my bust look bigger (scroll up to the prior photos, because it's really not – that's all optical illusion), while the vertical lines on the skirt seem to make me look taller.  MAGIC, I TELL YOU.  Lana picked this specifically for my love of retro 1950's style, and then went and suggested it should go with red lipstick, so I was happy to comply and add some more pops of red, because RED.  I think the dress might be a teensy little bit too big, but going down a size might make the skirt not hang as well over my hips.  The belt brings in the waist, making the fit pretty close to perfect.  The top of the dress is an off-the-shoulder sort of design, but I found that it didn't want to stay put on my arms, so I just let it slide up into a wide scoop neck shape.  The ruffle around the top is really cute too.  The fabric is a rayon/spandex jersey knit, made in the USA, and it's super soft and drapes just perfectly.  I don't think I even need to say it, but YAAAS KEEPER.
Item: Gilli Morgen Skirt
Cost: $58
Paired With: On Left – Top and necklace (last month's fix), belt and heels (mine).  On Right – shoes, necklace, tank, and shirt (mine)
I'll admit that when I saw this skirt, I knew that it had to have been inspired by a pin I put on my Stitch Fix Pinterest board.  Lana suggested I pair it with the black top from last month's fix, so I added the necklace from last month too for the photo on the left, and it looks really dressy for a nice night out.  I added that belt since it helps give me a little more of a shape through the middle, though I'm not completely sold on that belt with the outfit (maybe a thinner belt?).  I figured if I had the skirt that matched the Pinterest pin, I might as well try and style it that way too, hence the photo on the right.  It's a more casual look, but it really gives the skirt a whole new life, paired with flats and a denim top.  The fabric is a polyester/spandex knit with a viscose/spandex lining and is made in the USA.  It feels a little like swimsuit fabric, but it's got a nice drape and swing to it, and the lining gives it enough oomph and shape to keep it from being too clingy.  The print is a black, grey, and yellow oversize floral design which is just abstract enough to be a little edgy and fun without looking like grandma's couch.  This probably isn't a skirt I would've ever picked up for myself, but now that I have it here and had the chance to pair it with things from my own closet, I really, really like it, and can see SO many more things I already have that will go perfectly with it.  Totally a keeper.
The bill for the whole fix comes to $266.  If I kept the whole fix, the Buy 5, 25% discount would bring the total down to $199.50.  I'm definitely sending back the first two tops, so that means my total is $154, minus the $20 styling fee brings it down to $134 for the dress, skirt, and jeans.  They're all pieces I feel like I can wear a bunch of different ways, are quality fabrics, and they're new staples to my wardrobe instead of being cheap, trendy pieces that I'll only wear for one season.  Plus, for every new piece I keep from Stitch Fix, I make myself remove something from the closet that just doesn't work anymore.
Final thoughts:  I like being given little nudges outside of my style comfort zone.  I have a pretty good idea of what silhouettes/shapes/cuts work best on my body, but it's great to have someone give me a poke and say, "Hey, I have this idea for something I think will work for you, let's try it, and if it doesn't work out, no big deal, just send it back."  This is great because I don't have to fight traffic and parking and then dig through racks to find the right size – it all comes straight to my door.  The callbacks to previous fixes in the styling notes are helpful too, and make the best use of items I already have in my wardrobe.  I do think I need to tweak my style profile a little since I'm getting all items with sleeves even though we're rolling into summer.  I think the mighty Stitch Fix computer algorithm is only giving Lana so much to choose from and changing the "arms" preference from "keep them covered" to "sometimes I'll flaunt them" will give her more options to choose from.  I may not like to show off my arms, but I can always throw a cardigan or jacket over something sleeveless.  I may have two items going back in this fix, but there was absolutely no doubt on the three keepers!  In case you're thinking about trying Stitch Fix and want to give me a little love, here's my referral link!