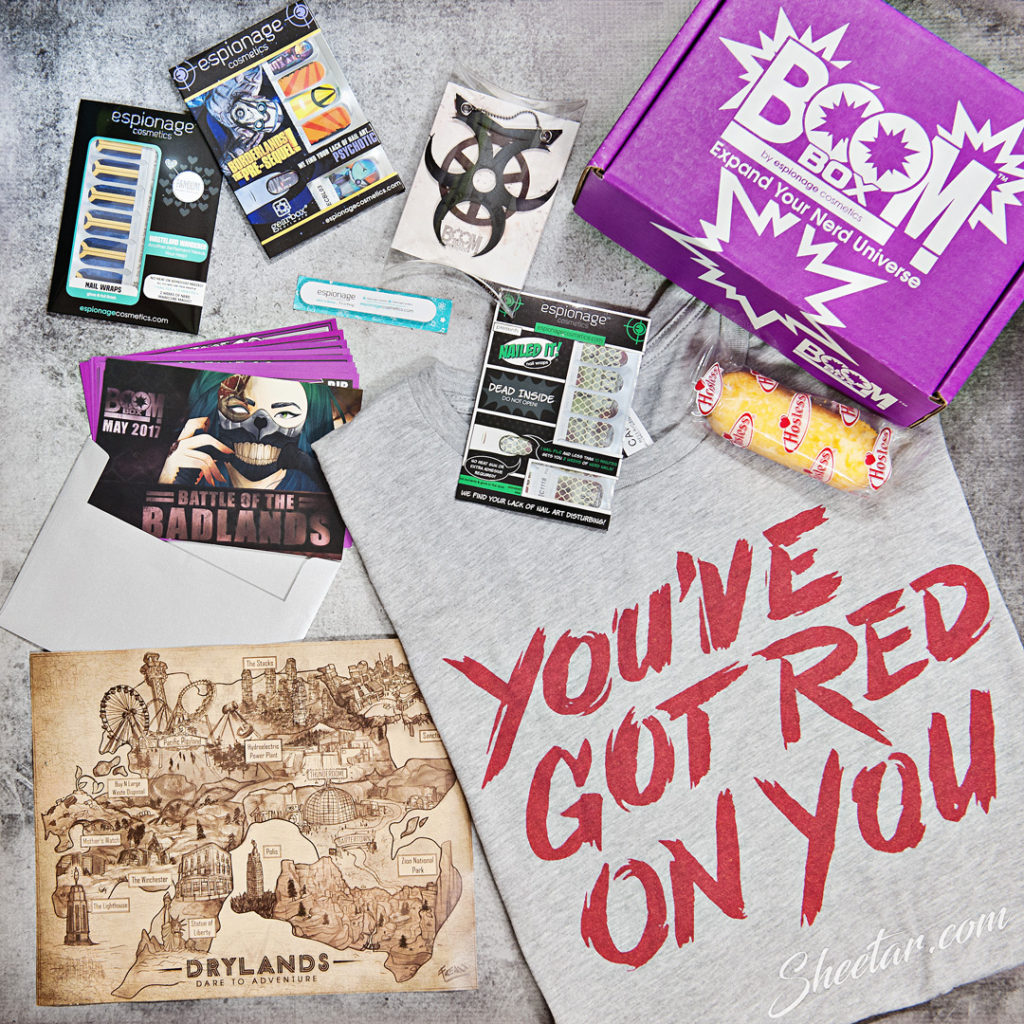 Oh hey, it's May, that means another edition of the Espionage Cosmetics BOOM!Box has arrived!  I completely forgot this was a May thing, so when I saw the box on my doorstep this morning, I was pleasantly surprised.  This month's theme was, "Battle of the Badlands," and was teased as featuring items from our favorite dystopias.  The theme was right up my zombie-loving alley, and may be one of my favorite boxes so far!
Drylands Map – SO much awesome in one little map.  This came rolled up in a tube, but flattened out pretty easily.  Both sides are printed with the back being a plain surface that looks like a distressed parchment paper.  It was designed by Jessica Freaxx who did an AMAZING job.  The map design is a collection of cities from all kinds of different dystopias from WALL-E to The 100, Shaun of the Dead, and even Zombieland to name a few.
You've Got Red on You T-Shirt – Created as a collaboration with Jordandené, this t-shirt has that classic phrase from Shaun of the Dead.  This is one of my most favorite movies ever, so I'm absolutely IN LOVE with this shirt.  The fabric is a super soft cotton, and I'm beyond over the moon for this.  I have .. plans .. for a better photo shoot for this shirt that I couldn't quite accomplish today, so I'll probably post that at a later date.  [insert evil cackle here]
Heda Necklace – Made of two layers of faux leather on a ball chain necklace, this necklace is amazing.  I am a huge fan of The 100 so this is perrrrfect.  The black faux leather top layer is imprinted with "Jus drein jus daun," and lays over a brown faux leather layer to make the Trikru symbol.  The back of the card lets you know that the chain was left extra long, but you can easily snap off the excess length to shorten it to your liking.
Twinkie – It's a Twinkie!  Definitely a reference to Zombieland, this addition to the box gave me a good laugh.  The unsinkable Twinkie also made an appearance in WALL-E, and just like in the movies, I'm pretty sure Twinkies will outlast us all (although this one may not last a week).  Such a great reference to two excellent movies!
Wasteland Wanderer Nail Wraps – These glossy nail wraps are a reference to the Fallout video game, specifically to Vault Boy's outfit.  I can't say I've ever played the game myself, but I'm familiar enough with the franchise to have picked this out right away.
Dead Inside Nail Wraps – OHBOY OHBOY.  ZOMBIES.  This is just such a neat take on The Walking Dead and I'm going to need eleventy more of these.  The nail wraps have a glossy finish with silver foil accents that make it look like you're watching for zombies behind the (apparent) safety of a fence.  There's even a glow in the dark accent! (Click here to see)
Borderlands The Pre-Sequel Nail Wraps – This is another video game franchise I haven't yet dipped my toe into, but I keep seeing references to the game everywhere, so it might be time!  These are glossy nail wraps in super bright colors, and even if I don't know much about the game, they sure are pretty.
Values are always hard to assign with this box since most things are custom-made just for this box.  I know that the Jordandené shirt retails for $30, and the three nail wraps would be $10 each which makes for a running total of $60, so we're already way over the cost of the box which is $30 per month plus shipping, making the cost $36.25 in total.  I can't get over that t-shirt though!  I have a bunch of other Shaun of the Dead themed tees, but this one is so perfect and so different from the others.  And, that necklace!  I'm definitely wearing that out this weekend.  So yeah, yet another box that completely knocked it out of the park for me!  Next cycle's theme arriving in August has already been announced and is, "The Perfect Storm," which, YES PLEASE.