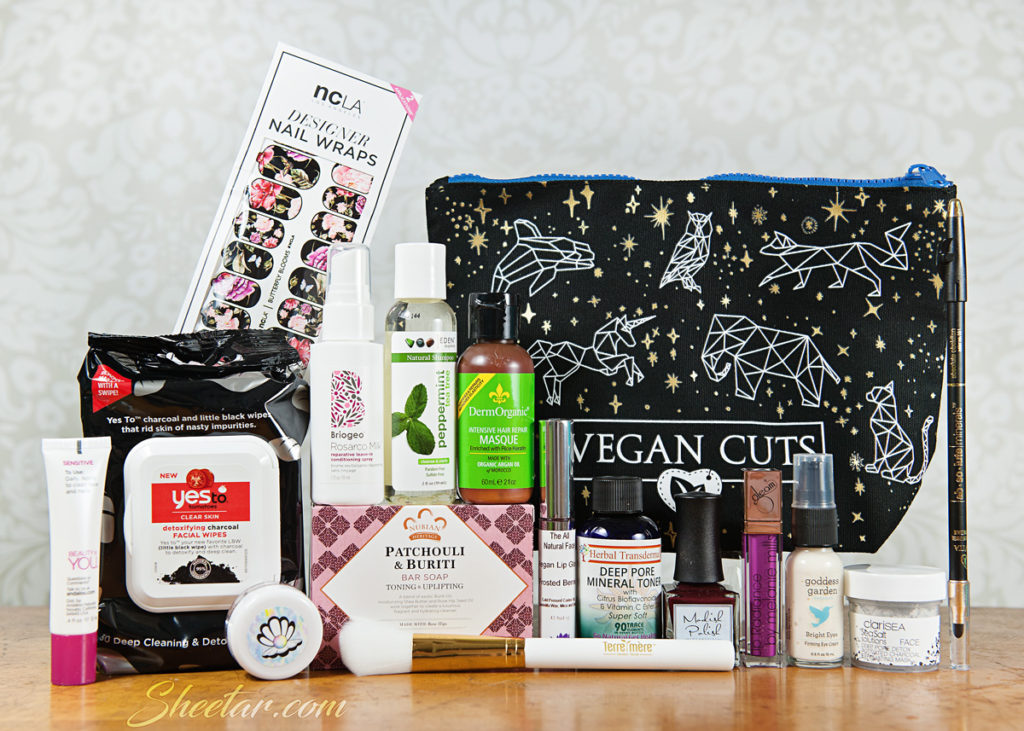 Vegan Cuts has had some neat specials recently and one of them was this Cosmic Beauty Haul featuring 17 beauty items for $45 which was a really great value.  It's not part of the regular monthly subscription, but is a special one-off promotion.  There may be some available still if you click the link here.  I'm just going to list the items and values here without reviews since there are a lot of items and it's too much to try them all right away and report back with honest impressions of them all.
Yes to Tomatoes Detoxifying Charcoal Facial Wipes – 30 wipes / $5.99 – (Full Size Product)
NCLA Nail Wraps – 1 set / $16 – (Full Size Product)
Briogeo Rosarco Milk – 1.75 oz / $9.00 – (Travel Size Product)
Eden Peppermint Tea Tree Shampoo – 8 oz / $8.99 – (Product is 2 oz, value of $2.25 by volume)
DermOrganic Intensive Hair Repair Masque – 3 oz / $6.99 – (Product is 2 oz, value of $4.66 by volume)
The All Natural Face Lip Gloss – .43 oz / $4.60 – (Full Size Product) Color is "Frosted Berries"
Nubian Heritage Patchouli & Buriti Soap – 5 oz / $4.99 – (Full Size Product)
Goddess Garden Bright Eyes – .5 oz / $17.99 – (Full Size Product)
Herbal Transdermal Deep Pore Mineral Toner – 8 oz / $15 – (Product is 2 oz, value of $3.75)
Gleam Lip Radiance – 5 g / $12 – (Full Size Product) Color is, "Uncontrollable"
DeVita Soft Lines – 1 pencil / $14.95 – (Full Size Product) Color is, "Absolute Obsidian"
Clarisea Deep Pore Detox Activated Charcoal Exfoliating Mask – 2 oz / $14 – (Product is 1 oz, value of $7 by volume)
Andalou Naturals 1000 Roses Day Cream – 1.7 oz / $24.95 – (Product is .4 oz, value of $5.87 by volume)
Terre Mere Large Angled Contour Brush – 1 brush / $32 – (Full Size Product)
Modish Polish – .45 oz / $12 – (Full Size Product)  Color is, "Control Freak"
The Ariel Company Cupid Lip Scrub – .3 oz / $9 – (Full Size Product)
Vegan Cuts Cosmic Beauty Bag – $10?
The total value comes out to $172.05 by my calculations.  The advertised value was over $190, so it's a little bit off, but still an incredible deal for the $45 cost.  I wasn't sure how to account for the value of the bag, so I may be a little low on that, plus the Gleam Lip Radiance was on sale at half off since it's a discontinued/clearance item, so depending on how you count those (full retail vs current price), you'd get closer to the $190 advertised value.  Either way, the value comes out to almost 4 times the cost, and that bag is pretty cute, so it's totally worth it in my book!  The big winners for me are the hair masque since it looks like it's perfect for my curly hair, the nail polish, bag, and Briogeo Rosarco Milk (already a favorite!).  I love these special one-off boxes as a neat treat-yourself sort of thing, and it's nice to get a selection of products without subscribing to a regular monthly box.  While I do subscribe to Vegan Cuts Beauty Box, these are products I hadn't yet seen since I've only gotten one box from them so far, so this was great since it had old favorites and brands that were new to me.