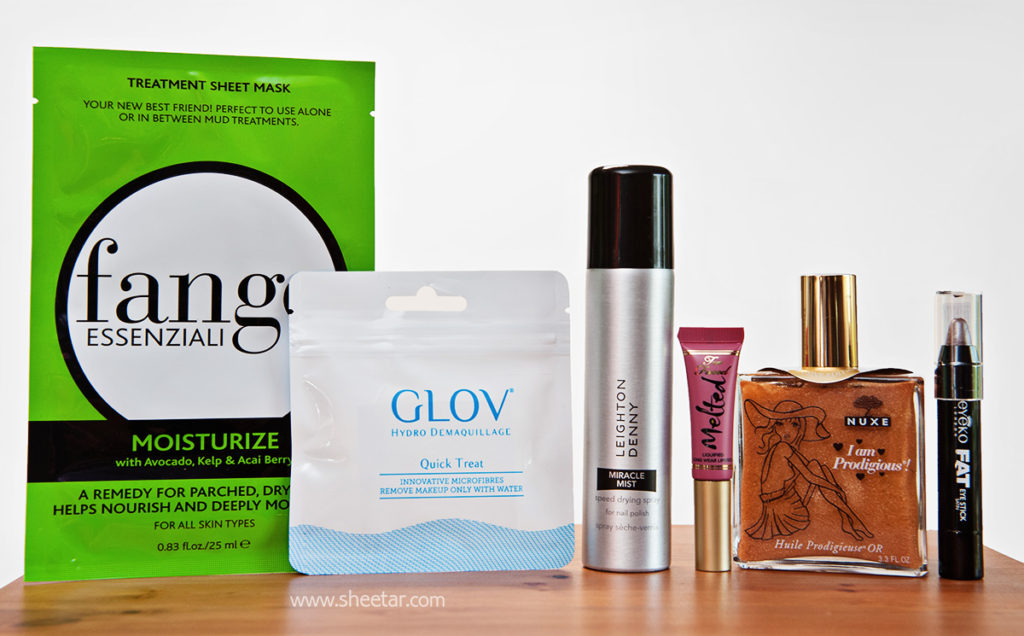 My first ever subscription box was Glossybox which I ended up dumping since they really didn't cater much to me.  So why did I subscribe again?  Last month they were offering a Buy-One-Get-Two-Free deal and it seemed pretty well worth it!  For only $21, I got three boxes – one is the current July box above and the other two free boxes  I received were the June Tony Awards box and January 2016's box.  Everything was shipped together in one box and arrived yesterday, 26 July 2016.  I'll post the other two below along with their contents, but first, the July Box!
Fango Essenziali Moisturize Sheet Mask – 1 mask / $7 – (Full size product)  It's a bigger packet than I expected, larger than my hand.  I do have dry skin, so this should be excellent to try since it claims it's a remedy for parched, dry skin.  CHECK!
Glov Quick Treat – 1 packet / $5 – (Full size product)  You can't tell from the packet what it is, but it's a microfiber cloth shaped to fit over your finger.  It seems much like the Makeup Eraser cloth I received from the Benevolent Beauty Box this month, but sized for just one finger instead of a whole cloth.  I'm glad it's reuseable and washable and all, but this teeny little thing seems a little silly when you can have a whole cloth for not much more cost.
Leighton Denny Miracle Mist – 75 mL / $16 – (Full size product)  I'm honestly pretty interested to see how this works.  My nails are already painted so I don't need to use it right away, but the idea that it might save me from my impatient self and help nudge my nail polish to dry faster is pretty appealing.
Too Faced Melted  – .4 oz / $21 – (Sample size product, value of $8.40 by volume)  I already have this exact same product and size from the Ulta 11 Piece Lip Sampler from earlier this year and I have no reason to have two even though it is a nice color, so this is going to be saved for a friend.
Nuxe Shimmering Huile Prodigieuse – 3.3 oz / $54 – (Full size product)  The most expensive item in the box and well over and beyond covers the cost of the subscription.  I'm not all that thrilled about it since it is basically a sparkly gold blend of oils.  The sparkle doesn't really show up on the skin since it's a really fine glitter, but I noticed on the hang tag on the bottle that it can be used on hair too, and since all the ingredients check out, I think I'm going to use this to help give my dry hair a little boost on days I don't wash it.
Eyeko Fat Eye Stick – 4 g / $12 – (Full size product)  I received the color, "Satin," and this product appears to be altogether discontinued – I couldn't find it on the Eyeko website at all.  The color is sort of a silvery bronze and has a decent shimmer to it.  I'll definitely use it, but I always feel like when they throw in discontinued items like this that it's a bit of a cop-out  – if I wanted another color of this, I couldn't buy it since it doesn't exist anymore.
This box's value comes to $102.40 which is pretty damn incredible.  Outside of the liquid lipstick, I'll use everything in here, and would've used the lipstick too if I didn't have the exact same color already.  Now on to the bonus boxes which I'll keep short and sweet with no individual reviews, just a product list and value.
Glossybox January 2016 Bonus Box #1
Royal Apothic Cream Creme – 1.25 oz / $14 – Full size product (in scent, "Venetian Grove")
MeMeMe Lip Glide – 1 stick / $12.50 – Full size product (in color, "Playful Peach")
-417 Foot Nourishing Cream – 3.4 oz / $18 – Product is 1.7 oz, value of $9 by volume
Beautiful Nutrition Lemon Rinse – 13.3 oz / $10 – Product is 2 oz, value of $1.50 by volume
Emite Diamond Heart Primer – 35 mL / $29 – Product is 15 mL, value of $12.43 by volume
Total value of $49.43.  The Lip Glide is the wrong color for me (too coral/yellow toned), the Lemon Rinse has no-no ingredients for curly hair, but I like everything else.
Glossybox June 2016 Tony Awards  Bonus Box #2
Sinful Colors Nail Polish – .5 oz / $3 – Full size product (in color "After Dark")
Tan Towel – 10 towelettes / $27 – 2 towelettes, value of $2.70
Icona Milano Emotion Allowed Mascara – .34 oz / $19 – Full size product
LA Splash Lip Gloss – .2 oz / $18 – Full size product (in color, "Red Carpet")
Sebastian Whipped Creme – 5.3 oz / $20 – Product  is .9 oz, value of $3.40 by volume
Sebastian Dark Oil – 3.2 oz / $48 – Product is .06 oz, value of $.90 by volume
Caolion Pore Pack Duo – 1 set, 1.75 oz / $30 – Product is .4 oz total, value of $6.86 by volume
Total value of $53.86.  I've heard terrible things about the tan towel, plus I don't use fake tanners anyway.  The two hair products both contain no-no ingredients for curly hair, and the mascara contains cyclopentasiloxane which irritates my eyes.  But hey, at least I'll keep the nail polish, lip gloss, and will try the pore pack?  See, this is part of the reason why I stopped my subscription with Glossybox.. So many boxes had products I couldn't/wouldn't use since I'm just not the intended audience.  Oh and the lip gloss appears to be a discontinued item – I can't find it on the company's website.
Overall, for $21, I got all that, even if a bunch of the products are complete misses.  Thankfully July's box had a super high value because if I had received the other two boxes as the primary box, I'd have been rather disappointed.  The first spoiler for August is up already, and I'm interested enough to let the subscrption ride for one more month.  If you enjoyed my review and wanted to send me some referral love, here's my link!