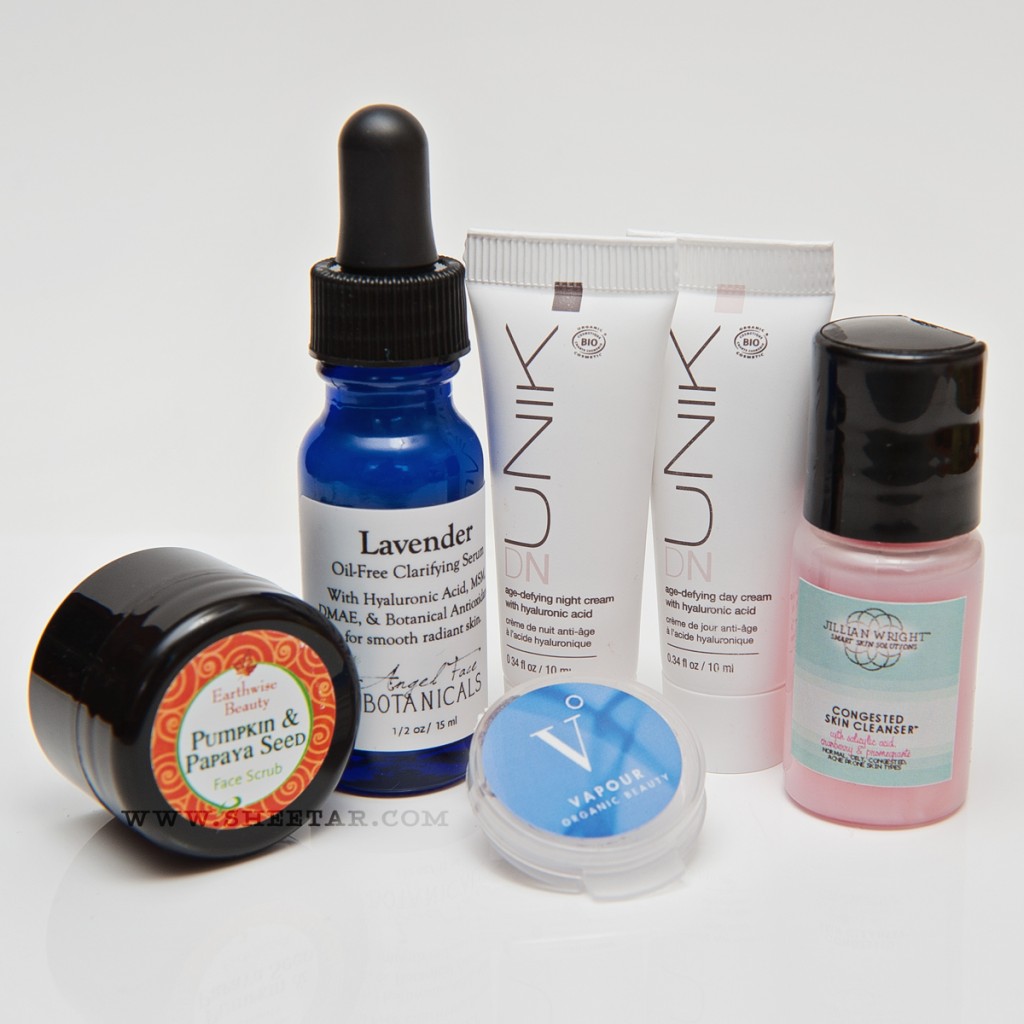 The October Goodebox has arrived!  And, it arrived in the first week of the month, on time (even if it shipped September 18th).  I'll start with the good since I was so critical last time.  I'm SO, so glad that Goodebox didn't fall prey to all the pinkwashing going on this month.  Besides the fact that I hate the color pink, I'd rather see real progress with breast cancer research and meaningful donations instead of BUY THIS THING BECAUSE IT'S PINK.  ALSO, BOOBIES.  (When, really, the majority of the profit goes to the company, not to breast cancer research)  The monthly product card points out that being mindful of the ingredients in our products is important, saying, "we'd like to remind you all to take your health, and what you put on your body seriously."  Huge kudos for that, because that matters more than buying something that's pink.  Now, that out of the way, I can tell you that this box was a miss for me.  I'd gotten accustomed to seeing full-sized products in the boxes, so when I opened this one, I was a little disappointed because all those samples are kinda tiny – the largest is 1/2 of an ounce.  It's silly and superficial, but it was the first thing I thought.  Checking around Instagram, it looks like there's only one product different between the different boxes which is again, disappointing.  Why have a huge survey about preferences if everyone gets the same box anyway?  There had been a much broader range of products in prior boxes, so it feels like maybe they were rushed to get this out on time (after last month's shipping issues with Newgistics).  I don't know.  I feel like I want to give them another chance because I have been pretty happy with the other boxes and support green/natural products, it's just that the last two REALLY missed the mark for me and it almost feels like they've cheaped out.  Anyway, on to the contents!
Jillian Wright Congested Skin Cleanser – 4 oz/$38 – (sample is .5 oz approx, value of $4.75)  This smells almost exactly like the Suave Strawberry shampoo which is a good thing!  Lathers up nicely, smells really great, but unfortunately isn't that reasonable in terms of price.  Coupon code for 20% off all Jillian Wright products.
Earthwise Beauty Pumpkin & Papaya Seen Organic Face Scrub & Mask – 2 oz / $32 – (sample size is .25 oz, value of $4.00)  Smells earthy and sweet.  I haven't tried this yet, but it looks great and is the one product I'm really interested in trying.  At $32 for 2oz, it's really spendy, but would be something I'd splurge on occasionally for a treat for my face.  I really love masks and deep scrubs, so this is right up my alley.  There's also a coupon code for 20% off.
Unik Anti-Aging Day Cream – .34 oz / $18 – (per abesmarket.com, 1.69 oz is the full size product at $57.95, so the sample is worth $11.66,  not $18)  I don't use day or night creams like this and have no interest in anti-aging products, so this is a wash.  I'll still use the sample because it's here, and hey why not, but this is just something I'm not interested in.  The misleading pricing information from the product card is just the icing on the cake.  There is a discount code for 20% off.
Unik Anti-Aging Night Cream – .34 oz / $18 – (per abesmarket.com, 1.69 oz is the full size product at $59.95, so the sample is worth $12.06, not $18)  Same as above pretty much.  Even with the discount, this is so expensive for a type of product  I don't already use daily, so this is a complete miss for me.
Angel Face Botanicals Lavendar Oil Free Clarifying Serum – 4.3 oz / $48 – (sample size is .5 oz, value of $5.58) This smells really great, and will be fun to try, but isn't something I include in my day-to-day routine and have no desire to at that price.  I did give this a try, and it sinks into my skin quickly without feeling sticky or heavy.  There's a 20% off coupon, but I think I'll just enjoy the trial size.
Vapour Mesmerize Eye Shimmer or Color – .11 oz – $20 – (sample size is .0096 oz, value of $1.74) This sample is probably the worst one in the box.  It looks like someone just cut slices of a full product and put them in little plastic snap boxes.  The slice measures 11mm across and 3mm high, which is how I got the sample size.  Fine, I'm a nerd, but this is ridiculous.  I've put a photo of that sample to the right  (click to see full-size photo) because it was just that absurd.  How am I even supposed to apply that?!  The color I received is "Dusk 625" which is a nice color, and the price is decent, but that sample?  Seriously, what the hell.  No coupon code either.
I added in the value of the samples to see what the box was actually worth as calculated out from the full-size products (Full-Size price divided by Full-Size volume then that number multiplied by the Sample Size).  Final total?  $39.79, most of which is the two anti-aging creams.  Take out the two creams, and the total comes to $16.07.  The box costs $18 per month.  Goodebox commented on my Instagram post to say, "We thought it might be helpful to share the actual value of the products you received. Angel Face Serum – $10, Vapour Organics Shadow – $3-5, DN Unik Day Cream – $14.98, Night Cream – $14.98, Earthwise Scrub – $4, Jillian Wright Cleanser – $6.33… For a total value of $53.29 (for $18)," but my totals don't math out  the same way.  I get that the "sample size" can be sold as a travel size at a higher price per unit than the full size, but that's a big difference in numbers.  I'll probably still stick in for one more box, but  if it does nothing for me, it'll be my last.