It's reveal day for January of Sew My Style 2019!   I decided to join on this year in hopes of sewing at least one thing a month (while we're home anyway), and having a fun challenge to work along with is great!   They set the prompt or pattern choices every month and then you go off and interpret the basic guidance however you wish which gives me just enough structure and just enough creative freedom.   January's prompt was, "Anything Goes Workout Gear," which left the field WIDE open.   I had an old order sitting around from the now defunct Sprout Patterns which just happened to be a pair of Sloan Leggings from Hey June Handmade in a cute Tetris print by SpaceFem.   The beauty of Sprout Patterns was that the size you selected came pre-printed on the fabric, so there was no pattern paper cutting, pinning, lining up prints, etc, etc.   It was a pretty great idea, but rather expensive, so I'm not entirely sure how popular it was.   This was my first experience with a Sprout Pattern and I have to say it went rather well!
The fabric is Spoonflower's Cotton Spandex Jersey (93% natural cotton, 7% spandex).   I washed and dried the fabric first then cut out the pieces which maybe took all of 15 minutes for all 8 pieces which included a waistband, waistband lining, a pocket, and the left and right legs, plus two pieces of knit interfacing for the waistband lining (not included).   There were instructions to add an optional clear elastic around the waistband to help them stay up, but I really never have problems with waistbands slipping off my hips and butt so I opted against the elastic.   This was my first time sewing knits, so I took some advice and picked up stretch needles as well as Maxi-Lock stretch thread.   I did sew a couple test runs on the leftover fabric between the pattern pieces (there was LOADS), but kept having trouble with the top thread snarling up into nests occasionally on the underside.   I used a zigzag stitch and adjusted for stitch length and width a little till it got better, but it still wasn't perfect.   Later I read that because I was using a traditional machine and not a serger, I probably should've only used the stretch thread on the bobbin and not the top thread, so, lesson learned!   The snarls are small and don't happen frequently, so I left it as is, and it doesn't seem to affect the final garment.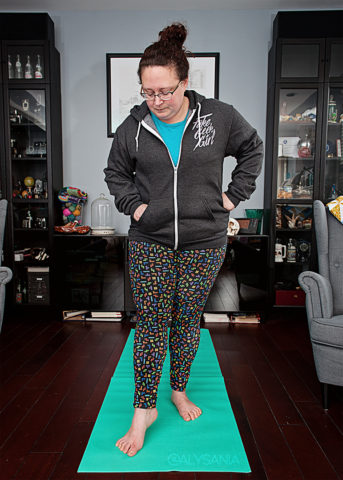 These maybe took me a few hours, even with making some mistakes, having to rip back the entire leg seam (I sewed it the wrong way the first time, d0h!), but if I sew this pattern again, it would probably take an hour tops.   Since the fabric is soft and stretchy, there's a good amount of forgiveness for mistakes and fit, so they fit rather well!   The waistband comes up pretty much to my belly button, and even though I picked the petite XXL size, I still had to take off 3 inches for the hem, and just ran a zigzag stitch around the bottom to make it easier.   The ankles are a little loose, but I have that fit issue with most pants/leggings since apparently I have a plus sized butt, calves, and thighs, however my ankles are 'standard' size.   Go figure!   I don't mind the ankles being a little loose since it's probably easier to pull them over my feet, so that's all good.   The pocket is REALLY great and was a fantastic addition to the pattern with minimal extra effort.   It's big enough to even hold my Pixel XL although just barely, and isn't bulky to the point that it sticks out or ends up lumpy under clothes when empty.
If you want to check out what other sewists made this month, check out the hashtag on Instagram, #SewMyStyle2019.